Shiny New Gadget
Of The Month: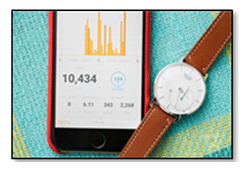 The Withings Activité Pop
Lately, it seems the tech world has been inundated with wearable devices, from fitness trackers to smartwatches. They offer a number of useful features, but they also lack in elegance. They are often bulky, ordinary, complicated and—in the case of smartwatches—have less than desirable battery life.
This is where the Withings Activité Pop comes in. It looks like a classy watch on the outside, but on the inside it's a very different story. It's an activity tracker, verging on expressing itself as a smartwatch.
From the smartphone app, you control everything, from the analog dials to your activity goals. The watch face features a secondary dial that tracks your activity—from 0% to 100%—for the day. It's simple and straightforward. It's water-resistant up to 30 meters and available in three colors: azure, sand and shark gray. It's currently available at Best Buy, in-store and online.