The WayTools TextBlade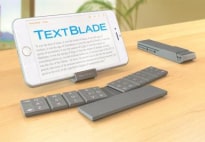 When we are surrounded by touch-screen mobile devices, sometimes we can get a little nostalgic for a good oldfashioned keyboard. Sure, there are a number of apps that make typing on a touch-screen easier, but tactile feedback is nonexistent. Or we want to type something more substantial than a text message or quick email, and we don't want to go through the chore of typing it all out on a small screen. And then it's often hard to find a wireless keyboard that is both practical and truly portable.
The WayTools TextBlade aims to solve these problems. The TextBlade offers a fully-featured and responsive solution—while maximizing portability. Through a Bluetooth connection, you can sync it up to your favorite smartphone or tablet. The lithium polymer battery lasts upwards of a month with average use, and it's quickly recharged via USB. Small but powerful magnets keep it held in place when you're using it and when it's tucked away in your pocket.
It's priced at $99 and you can find it online at www.waytools.com.