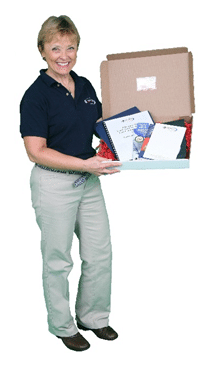 Employee Spotlight
Patty Willman
Marketing Specialist
It looks like November is my turn to take the employee spotlight. My name is Patty Willman and as the Marketing Specialist, here at Nashville Computer, it is my job to find companies that need our IT expertise. You probably won't see much of me, because I don't fix computers or order equipment. But every once in a while, I may ask you for a testimonial or a referral, or you may see me at a seminar or conference. It's a job I have enjoyed now for 4 years, as it is always a pleasure to tell others about the honest, hard-working and knowledgeable people I work with every day here at Nashville Computer.
In my spare time I have the pleasure of coordinating an Adaptive Athlete program through the Harpeth Bicycle Club. My husband and I ride a tandem bicycle, as do many others in the club. On Tuesday evenings from the first of October through the end of May, several visually impaired adults as well as students from the Tennessee School for the Blind, come to the Nashville Fairgrounds Speedway to ride tandems with us. The blind athletes tell us that when they are on the tandems, they no longer feel blind, they just feel like athletes. They love the wind in their faces and the freedom of movement. Plus it is very beneficial exercise.
Through this program, some of our athletes have been able to attend a "Learn to Race Camp" at the Olympic Training Center in Colorado Springs. The camp teaches them what it takes to make the national team and go to the Paralympics.
Working with these Adaptive Athletes has been the experience of a lifetime and I hope you have enjoyed reading about it! Let me know if you are interested in getting involved as well.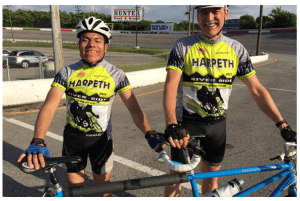 George Guererro (Adaptive Athlete) and Brian Babiak. (Harpeth Bicycle Club Volunteer Captain)