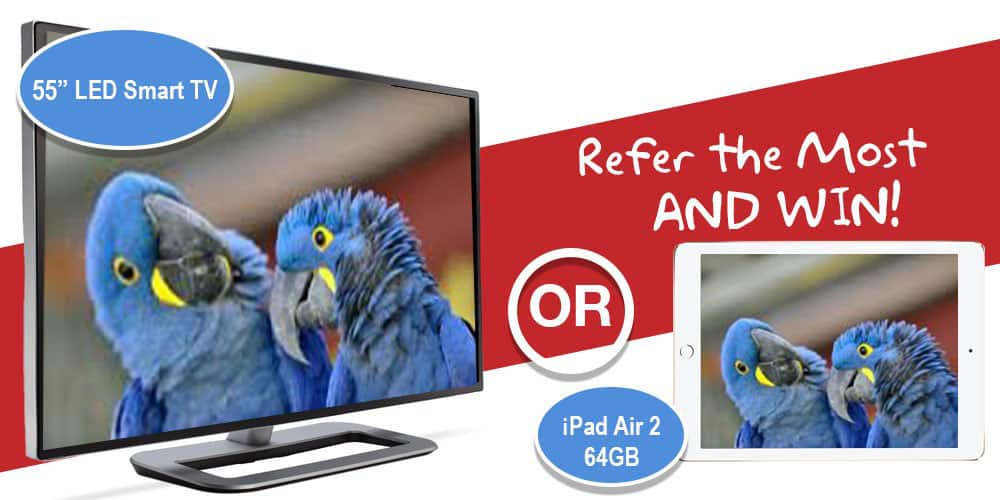 WHO WANTS TO WIN A 55" HD SMART TV OR AN iPAD AIR 2?
Some of our best clients come from referrals. We all know, "Birds of a Feather, Flock Together," so we think you may have friends, colleagues or associates you could refer who are in need of our IT services. To make that fun and worth your time, we are holding a Referral Contest which will reward both you and your referral.
Here's how it works:
Fill out the form on the right side of this page with your contact information and the contact information for your referrals. Be sure to let your referrals know that we will be calling them.
After we hold our first meeting with each referral, we will send you $25 and your referral will receive a Free Network Assessment ($497 value).
If your referral becomes a Managed Services Client, we will send you another $50 and your referral will receive $100 off of their first service with us.
The person who gives us the most referrals by June 30, 2015, (whether they become a client or not) will win their choice of either a 55" HD Smart TV or an iPad Air 2. If there is a tie, the person who sent the first referral, will be the winner.
We will announce the winner the second week of July.
We are looking for C-level executives/decision makers in companies with 10 or more employees in the Nashville area who do not have Corporate IT Departments supporting them. Referral contact information
must
include: first name, last name, title, company name, phone number and email address. Not required, but we would also like to know how many computers and servers they have if possible. So what are you waiting for? Remember that being the one to give the
first referral
,  could be the deciding factor in winning big(see rules above)! So send your referrals now, while you're thinking about it.