Shiny New Gadget
Of The Month: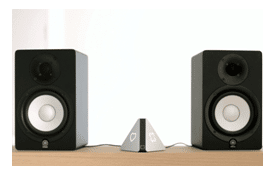 Prizm
This month's gadget is so new, it isn't even off the assembly line. Meet Prizm — a small, pyramid-shaped device designed to make your home-audio experience as hands-off as humanly possible. The device was recently backed on Kickstarter this past November. The French company behind the audio device wanted to create an intuitive music experience that brings users new music, while learning what they really love to listen to.
The device streams music from cloud services such as Deezer, Spotify and SoundCloud, with more services planned in the future. It works by accessing your WiFi network. It doesn't contain any speakers, so you'll have to supply your own (it connects via Bluetooth, 3.5 mm stereo jack and optical audio). And despite being called hands-off, the device sports buttons to let you like or skip songs to customize your listening experience.
It can currently be pre-ordered from www.meetprizm.com for $139.