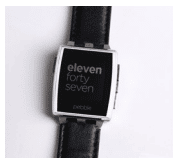 Shiny New Gadget Of The Month:
Pebble Steel
Pebble Steel does more than just tell the time — this smart watch displays e-mail, text messages, caller ID and other notifications from your favorite apps, reading them straight from your iPhone or Android phone. Pebble cleverly vibrates on your wrist to alert you of incoming calls, meeting reminders or approved notifications. Leave your phone in your pocket as you go about your day-to-day activities.
The long-lasting battery life and the easy-to-use design makes this watch both stylish and necessary in this day and age, and its e-Paper screen makes it easy to see in both direct sunlight and even underwater.
Pebble Steel is available on Amazon.com for $149.99. With this gadget, whose battery can go for a week without charging, the integration of technology in your life will be smoother and much more hands-free.