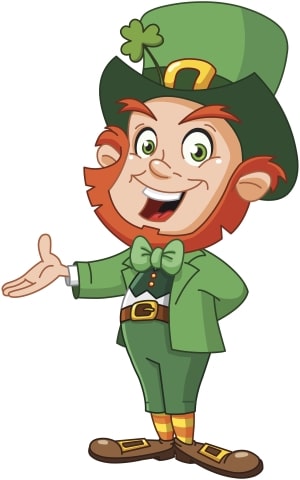 "Lucky Charm" Keeps Hackers Out
Ralph's been a good employee for you. Shows up on time. Gets the job done. Doesn't hassle anybody.
He's also a porn addict. When nobody's looking, he's visiting sites – on your network – that you'd be appalled to see. IF…you knew about them. Without careful monitoring and filtering, this kind of Internet use on your network can remain hidden.
Shocking? Hard to believe it could happen at your company? A survey by International Data Corporation (IDC) revealed that 70% of all web traffic to Internet pornography sites occurs during the work hours of 9 a.m. to 5 p.m. Ralph's little visits may seem harmless, but they're adding a serious level of risk to the financial health and security of your company.
Here's how. A visit to an adult website can be tracked. And if a logged-in user's identity is leaked, it can be embarrassing, to say the least, to that user. The user may even become a victim of "sextortion" or blackmail. Just ask any of the people who used Ashley Madison, a dating site for illicit affairs. When the site was hacked, users were suddenly at risk of having their indiscretions revealed. This gives cybercriminals a powerful lever to pressure an employee into revealing sensitive company data. Considering that 60% of security breaches start from within the company, you have to wonder what someone at risk of being exposed might do to keep their little secret, well…secret.
Let's face it, if you're not carefully monitoring and managing how your network is being used, your company's data could be in serious jeopardy.
Content Filtering In Today's Web 2.0 World
Whether you're already monitoring user activity on your network or not, you need to stay vigilant about evolving risks. And content filtering is key. If your business is like many, you may already be doing some filtering. But is it enough? As technology evolves, hackers drum up ever stealthier ways to invade your network.
Cloud-based filtering, for example, becomes a must when mobile devices tap into your network. The old concept of a static, location-based "firewall" just doesn't cut it anymore when your staff goes mobile.
Then there's social media. It's like a big window into the personal lives of your personnel. It lets cybercriminals "case the joint" before breaking in. For instance, when users log in to a personal Facebook account at work and talk about vacations, favorite hangouts or weekend activities, hackers can use that information for social engineering and other ploys.
The number of ways your network is exposed to potentially damaging content grows daily. It's no wonder that 90% of companies and government agencies surveyed by IDC detected computer security breaches within the previous 12 months. Eighty percent of those organizations acknowledged financial losses due to these breaches. With odds like that against you, an up-to-date content filtering system could well be THE "Lucky Charm" that keeps your company, and your data, safe from all kinds of harm.
Educate Your Employees On What Is And Isn't Acceptable
Along with that up-to-date-content filter, make sure your employees know what is expected of them. Put in place an Internet Usage Policy and have any newly hired person sign it as part of their job orientation. An Internet Usage Policy dictates what is deemed to be appropriate Internet browsing behavior in the workplace. This policy typically enforces time restrictions for employees when browsing the Internet for non-work-related tasks as well as stipulating what genres of sites they are allowed to browse. Having an Internet Usage Policy, which can also be referred to as an Acceptable Use Policy (AUP), ensures that employees know the directives that serve to safeguard their work environment and the IT network infrastructure. It is also your opportunity to make them aware you will be monitoring their Internet usage.
If you do not have an Internet Usage Policy, Nashville Computer can supply you with a template that can be customized to fit your business model.
Take Five Minutes To Insure Your Business Is Protected
Having the right web content filtering solution, along with a good Internet Usage Policy could save your company thousands of dollars in lost productivity, potential lawsuits and company resources.
If your company is without either of these, take five minutes right now, while you are thinking about it, to call Scott Thorsen directly at 615-497-8144 and get the tools your business needs. Don't wait! It could be too late. Call him today.
Let's not let your company become yet another statistic, hemorrhaging cash as a result of a destructive cyber-attack.
Do You Have Questions
or Need Help?
If you have any questions about the information in this newsletter article or need help with your business' computer network or other IT issues, fill out this form. We will be happy to contact you.