Shiny New Gadget
Of The Month: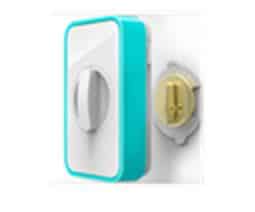 Lockitron: Keyless Entry Using Your Phone
Hate taking your keys with you on a run? Have friends coming to visit and can't be there to let them in? No worries…
Now you can lock your door from anywhere in the world. Any smartphone can use Lockitron through its intuitive two-button app. With Lockitron you can instantly share access with your family and friends.
In addition to the convenience, Lockitron gives you peace of mind. Lockitron lets you see if your door is locked when you're gone. It will send a notification when someone unlocks the door using a phone or key.
Here are some of the key details (no pun intended):
Any phone works – Lockitron is compatible with any smartphone, thanks to our mobile web site. Older phones can use Lockitron through simple text-message commands.
WiFi built in – Lockitron connects to the Internet, thanks to built-in WiFi. You can control Lockitron and receive notifications from Lockitron anywhere in the world.
Keyless entry – If you use an iPhone 4S or iPhone 5, you can enable Lockitron to sense when you walk up to the door and unlock for you using Bluetooth 4.0.
Powerfully smart – Thanks to intelligent power management, Lockitron's batteries last for up to one year. Lockitron will even send you a notification when they are running low.
Easily customizable – You can control your Lockitron through our incredibly simple API endpoints or program it directly, thanks to its Arduino-compatible ATMega microprocessor.
Pre-order your Lockitron today for only $179! https://lockitron.com/preorder