The Importance Of Focus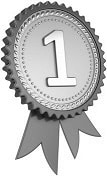 There are songs about it (think "One" by U2), there are stores named after it (think Pier 1 Imports), and every sports team on the planet says it is number one after an exciting victory. It's good to be number one.
Now think about "two." There are few songs about number two, fewer stores, and I don't believe any team marches around proudly cheering, "We are number two!"
We all know intuitively that being number one means you are the best. And every single entrepreneur in this world aspires to be the best at something. Yet somewhere between our entrepreneurial intuition and our business brain, we lose the focus on being number one.
Instead of excelling at one thing, we think it is "logical" to be offering more and more things to more and more people. We try to become a "one-stop shop," and ultimately our customers just hear the "middle part" and STOP. This leads our business to become a blight of mediocrity.
It doesn't matter what business you are in, your success lies in your ability to become number one. The formula to becoming number one is pretty simple – just do one thing better than anyone else. Not a few things, not a lot of things – just do ONE THING better than anybody else and focus on that. Here are the three things you need to get there:
Stop Thinking You Can Do It All – You probably can do it all. You just can't do it all well. Successful entrepreneurs focus in on the one thing they are best at and devote themselves to mastery of it. The rest is assigned to others through partnerships, contracts and colleagues.
Be Bold – When you discover what you are great at. You need to put it out there, BIG TIME. The most important differentiator between the "number ones" and everyone else is that they don't care what all the other people think about them. They care only about what they know to be right, and then put themselves out there unabashedly. When the minority responds feverishly and enthusiastically to your boldness, you have the most significant indicator that you are number one in your niche. Over time that minority will become the majority. Audacity is often the only thing that separates two equally talented entrepreneurs.
Teach It – Masters share knowledge. The more you teach, the more you learn about what you are teaching. Others will gain knowledge from you, but also will gain respect for your expertise. As people come to appreciate your abilities, they will crown you king, and all the riches go to the king.
Build a business and be an entrepreneur who is driven to be number one. No longer worry about what the competition is doing, and no longer think about how you can bring in a few more dollars by "just doing a few more things." Instead start worrying about what you are doing to be unique and different. Instead start thinking about the one thing you can do to bring in a king's ransom. Just be humble, for God's sake, and don't brag to the world that you are number one… that won't serve you well.
MIKE MICHALOWICZ
(pronounced mi-KAL-o-wits) started his first business at the age of 24, moving his young family to the only safe place he could afford – a retirement building. With no experience, no contacts and no savings, he systematically bootstrapped a multi-million-dollar business. Then he did it again. And again. Now he is doing it for other entrepreneurs. Mike is the CEO of Provendus Group, a consulting firm that ignites explosive growth in companies that have plateaued; a former small-business columnist for
The Wall Street Journal
; MSNBC's business makeover expert; a keynote speaker on entrepreneurship; and the author of the cult classic book
The Toilet Paper Entrepreneur
. His newest book, The Pumpkin Plan, has already been called "the next
E-Myth
!" For more information, visit
https://www.mikemichalowicz.com/