Shiny New Gadget
Of The Month: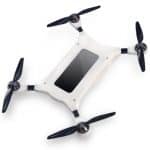 What If Your
Smartphone Had Wings
Video streaming from the air is about to get a whole lot more affordable.
It just so happens that the brains, gyroscope, GPS and camera aboard all those new drone cameras you may have seen can also be found in your smartphone…
Slip your smartphone into a PhoneDrone Ethos, and you have your own flying camera at a fraction of the cost of a fully equipped camera drone.
Worried about your smartphone taking a hit in the event of a crash landing? For about $50 you can buy a cheap smartphone with all you need to fly the Ethos.
Built-in mirrors enable you to shoot down, forward or to the side. You can preprogram it, or fly it manually from the ground. You can even control it with an Apple Watch.
It's scheduled to start shipping in September 2016, and "early-bird" discounts may be available at xcraft.io/phone-drone.