Shiny New Gadget Of The Month: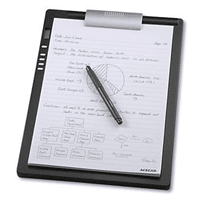 DigiMemo – Digital Notepad And Pen
While many people have converted to electronic methods of note-taking by using tablets and laptops, there are still a few holdouts who prefer to use good old-fashioned pen and paper. Transferring, sharing and saving electronically is the one setback to this classic way of doing things. Well, not anymore. Now you can go from paper to e-mail or Word in seconds.
The DigiMemo with 32MB memory and memory card slot is an amazing stand-alone digital notepad that digitally captures and stores everything you write or draw with ink on ordinary paper, without using a computer or special paper.
When connected to a PC via USB, the DigiMemo easily organizes your notes with its powerful, included DigiMemo Manager Software in Windows or Mac. Want to e-mail your notes and drawings straight out of the DigiMemo? Simply launch Mail software, press the send function and off it goes!
For the 8-1/2" x 11" digital notepad, an online writing function can instantly synchronize your writing on the paper with the page in its software in Windows.
Get yours today at: www.SkyMall.com