Employee Spotlight
Cory Goodman
Support Engineer
Cory Goodman has been with Nashville Computer, Inc. since September of 2010. He currently works as a Field Engineer, visiting our clients on-site to solve problems, perform site maintenance, network assessments, site deployments and all kinds of trouble shooting. Cory is very diligent about staying on top of IT issues and understanding the small details of technology to keep our clients safe and productive. His colleagues will tell you that he is not only knowledgeable, he is a very kind and genuine person. For his spotlight he chose a lighter story to share with our readers about his dog, Shira:
"Well everyone I guess it's my time to be in the spotlight again. I could give another story about some more technical virus jargon I'm sure we would all love to hear about, but for once let's talk about something on a lighter note and something that has nothing to do with computers. We get enough of that all week long. Instead I have a nice short story to share about my dog "Shira."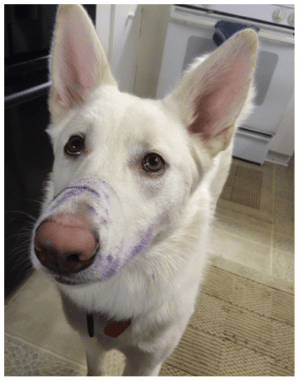 Shira is my 1 year old female Wolf Hybrid who shares the same birthday as me on June 11th. My girlfriend, Jasmine, and I like to cook together often and we usually get a nice helping paw from our little pup on cleaning up dishes afterwards.
Well, one day we just decided to make a nice simple cake. We picked up a mix from the grocery store. This happened to be a box that came with some purple food coloring which is why it caught our eye.
We got home and started making the cake as usual. After we got all of the ingredients (including dyes) together and the cake in the oven, we had to walk away for a minute.
When we came back we found the almost empty bowls of purple cake batter on the counter completely licked clean. Normally Shira can play this off because she's very smart and knows how to be cute. But this time circumstance was not in her favor.
Either way with a face like that it was still hard to be mad at her.