Is Your Current Computer Guy Only Putting Sloppy Band-Aid Fixes on Your Most Pressing IT Problems?
I'm fed up with seeing so many Nashville Area businesses seriously wounded by sloppy "band-aid fixes" put on their computer networks by other IT guys trying to save a buck or two, and I'm determined to finally put a stop to this careless activity once and for all.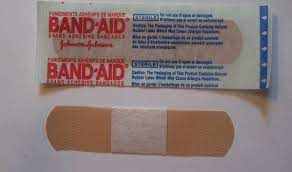 Here's what this is all about: What makes Nashville Computer different is that no other IT services company in Nashville area can touch our fast response time of 3 minutes or less, personalized service with our local Help Desk, or our ability to deliver technology solutions that keep your projects on track, your remote workers connected, and your data safe
Although this isn't an amazing concept, I'm amazed at how many IT firms don't get this right. And if you're frustrated with your current IT person because they are totally unreliable, inept at solving your IT problems fast and (quite possibly) incompetent at delivering good, predictable service, we can help.
In addition to solving these issues, we can also show you how to:
Increase employee productivity significantly

by putting a responsive IT support help desk within a quick phone call's reach whenever any little glitch does occur. Why should anyone on your staff ever have to wait around idly while their computer is down?
Eliminate costly downtime, chronic problems, slowness and other computer headaches with our server support service. How does this work? By proactively maintaining the health and security of your network with 24/7 monitoring and maintenance.

In fact, we guarantee that you will have less than 1 hour of downtime the entire YEAR due to a problem we should have caught under our watch

—just try to get your average "computer guru" to make that kind of promise!
Gain complete peace of mind that your network is 100% secured and backed up properly so IF you were to experience a major disaster of some kind, we could have you back up and running again within 24 hours or less. And we don't just say that, we guarantee it.
Isn't It Time To
Finally

Rip off the Band-Aid?
Sign Me Up For
The No Obligation On-Site Consultation
Important! We hate spam as much (or more!) than you and promise to NEVER rent, share, or abuse your e-mail address and contact information in any way.
I Rely On Them For Everything

We have been with Nashville Computer for over 15 years. They are
quick to respond and provide excellent customer service.
They always help me with what I need and then ask if there is anything else. They bring IT and computer issues to my attention that I hadn't thought about. That
...Read More
Dawn Friton
Office Manager
FMC CPA
Quick Response Time

Nashville Computer provides a quick response to your IT needs and questions. Nashville Computer Technician's give you detailed notes, and their explanations are always easy to understand. We appreciate Nashville Computer's quick response, efficiency, and attention to detail.
...Read More
Tonya Sweeney
Executive Assistant
Wright & Company, Inc.
Although the notion of providing reliable, affordable, full-service computer support isn't an amazing concept, it still surprises me how many computer technicians don't get it right. Therefore, I understand if you're skeptical about our claims. My guess is that you've been disappointed, even burned, by other IT guys in the past. That's why I'd like to extend the following offer to you…
No-Obligation On-Site Consultation
As a prospective client, I'd like to offer you a No-Obligation, On-Site Consultation. In this meeting we will:
Listen to the problems you are facing with your computer network
Determine what technology you have and how it drives your business
Explore with you any vulnerabilities in your system that could put your business at risk
Offer solutions that will make your life easier and your IT headaches go away
This On-site Consultation will give you first-hand experience with the Nashville Computer philosophy and see how it fits with the way your business works.
Click here for your No Obligation on-site consultation
The No Obligation On-Site Consultation only takes 60 minutes, but when it's done, you'll know for sure if your company's data is secured and, in the event of a disaster, exactly how fast you could be back up and running again (if at all). I will be following up in the next couple of days to make sure you received this letter, and to see if you would like to schedule this free IT Systems Assessment. If not, please just let us know!
Awaiting your response,
Charles Henson
Nashville Computer
Author of Hassle-Free Computer Support
P.S. Why risk it? Our No Obligation On-Site Consultation comes with zero strings attached, no expectations and no obligations on your part. If nothing else, it will be a good third-party validation of how well your systems are currently performing.